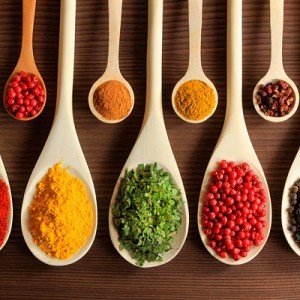 Inflammation is the body's natural response to injury or infection, often causing localized redness, swelling, or heat. It possibly causes loss of function of the involved tissues. Acute inflammation is typically a protective and localized response to infection or injury. It's designed to heal the body and restore normal tissue function.
Inflammation is a huge topic these days as recent research indicates that there is no longer any doubt that inflammation produces a cascade of events responsible for most chronic diseases including cancer.  Often the medical docs jump to a drug treatment and there are times that this is what is needed. There are also MANY instances when alternatives are appropriate, however, in the world of herbs and herbalism and some are as close as your pantry! Many herbs can work on inflammation in a multi–faceted holistic and balanced way without the side effects of drugs.
Herbs and cooking spices contain a wide variety of antioxidants, minerals and vitamins, and help maximize the nutrient density of your meals. Every time you flavor your meals with herbs or spices you are literally "upgrading" your food without adding a single calorie.

In fact, on a per gram fresh weight basis, herbs rank even higher in antioxidant activity than fruits and vegetables, which are known to be high in antioxidants. Many studies have also shown that most spices tend to have unique medicinal qualities.

In the featured study, researchers from three Universities devised an experiment to evaluate the "true world" benefits of herbs and spices, by feeding them to people in quantities that are typically consumed simply by spicing up your meals. As noted by Dr. Michael Greger MD, who produced the video above:

"The researchers could have taken the easy route and just measured the change in antioxidant level in one's bloodstream …

According to the National Center for Complementary and Alternative Medicine (NCCAM), there's not enough evidence to support the use of particular herbs or spices as effective treatment for rheumatoid arthritis. That being said, a number of herbs and spices do have anti-inflammatory properties however, and, at the very least, adding them to your recipes will liven up your meals.
Please Read this Article at Articles.Mercola.com