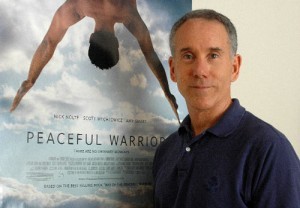 Millman was born in Los Angeles, California, to Herman and Vivian Millman (both deceased), and has an older sister Diane. Much of his early life included active pursuits such as modern dance, martial arts, and then trampoline, tumbling, and gymnastics. During his senior year at John Marshall High School (Los Angeles), Millman won the United States Gymnastics Federation (USGF) national title on the trampoline and was voted Senior Athlete of the Year.
This is an excerpt from the 90-minute DVD, Dan Millman: Living as a Peaceful Warrior. Maybe you saw the movie version of Dan Millman's life – Peaceful Warrior, starring Nick Nolte as Socrates? It is often described as "Rocky for the soul."

Dan Millman describes a way of life where the focused attention of the (zen, but grounded) gymnast is applied to all facets of daily life — from eating and walking to working and relating with others. A practice of all things.
Generally we blame our emotions on conditions outside of ourselves to which we react. It seems we've been conditioned to look for something to blame outside, never taking ownership. What's truly refreshing about this particular segment is that unlike the majority of spiritual "gurus," Dan has never been one for suppressing negative traits or thoughts to try to force positivity. The full array of …
In addition to his books and speaking engagements, Millman attempts to connect with devoted readers and admirers through a series of quarterly newsletters published and distributed by his San Rafael company, Peaceful Warrior Services.
Please Read this Article at NaturalBlaze.com