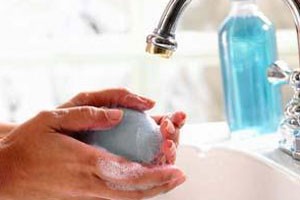 Much has been written recently about the potential hazards versus benefits of antibacterial (biocide)-containing soaps. The purpose of this systematic literature review was to assess the studies that have examined the efficacy of products containing triclosan, compared with that of plain soap, in the community setting, as well as to evaluate findings that address potential hazards of this use–namely, the emergence of antibiotic-resistant bacteria.
Washing your hands is at the top of the list when it comes to effective contagious disease prevention, but many still make the mistake of assuming you have to use antibacterial soap to get the job done right.

The same goes for other household cleaning. Routinely disinfecting your body and surroundings may actually cause far more harm than good in the long run.

Not only does it promote the development of drug-resistant bacteria, but antibacterial compounds such as triclosan have also been linked to a number or harmful health effects, especially in young children.

Triclosan was also found in 51 percent of cord blood samples. Yet another antibacterial compound, triclocarban, was detected in 87 percent of urine samples, and 23 percent of the cord blood samples.

Warm water and a mild soap is really all you need to scrub off the germs. Even the US Food and Drug Administration (FDA) has stated

The lack of an additional health benefit associated with the use of triclosan-containing consumer soaps over regular soap, coupled with laboratory data demonstrating a potential risk of selecting for drug resistance, warrants further evaluation by governmental regulators regarding antibacterial product claims and advertising. Further studies of this issue are encouraged.
Please Read this Article at Articles.Mercola.com